To contact our press office please send all inquiries to press@badoink.com
Introduction
As part of our 8th-anniversary celebration, BaDoink Studios is bringing our members a long-awaited, and until now, unattempted three-part special scene release. Remix Villa is an immersive VR experience featuring five of the adult industry's most popular models. This series has something for everyone and the finale is set to be our most impressive scene to date. Members will explore their deepest fantasies as they're guided through the most unique 7K VR porn experience available.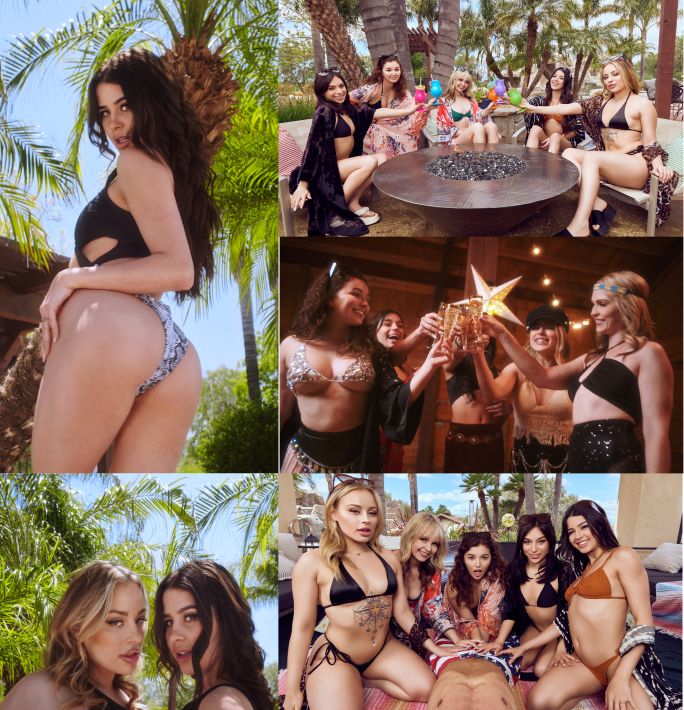 "We wanted to do something different - more ambitious. Planning a long term shoot with five actresses and an elaborate storyline required a lot of planning. We cast this series with chemistry in mind and all of the actresses did a phenomenal job in their roles. We wanted to create a continuous storyline that crescendos into an exciting finale, and I think we've succeeded."Lucas Elliot - Content Director
"If there was a better way to kick off the summer I would have said so, but nothing comes to mind. Filming with amazing girls like Anna Claire Clouds, Kylie Rocket, Lily Bell and Aria Valencia all at once was amazing. I love working with BaDoink, and this was my first ever scene where they included drone footage! This is something I couldn't easily forget."Leana Lovings - Performer
"My favourite part of the shoot had to be being around so many fun beautiful women, orgys are definitely my favourite and the energy that day was sooo amazing!! shout out to tommy gun for handling all of us haha everyone that was there made it such a fun day"Aria Valencia - Performer

Press Kits
Welcome to our press kit section! Here, you can easily access and download our press kits. When downloading artwork from this page, you agree to the BaDoink Studios Artwork Download Agreement. Stay informed and explore the exciting world of BaDoink Studios!
Artwork Download Agreement
Our logos must be used at a size that is clearly legible at the image resolution provided. The logos can never be manipulated in any way that transforms them from their original design, which includes elements such as shape, opacity, level settings, colours, letter spacing, to name a few (examples are not comprehensive - excludes resizing)
Your use of images, videos, logos, and written content associated with BaDoink Studios and all its brands cannot be used in any manner that falsely suggests an association with BaDoink, its brands, or is likely to reduce, diminish, or damage the goodwill, value, or reputation associated with its various creative brands, products, performers, business models, partners or BaDoink itself.
---